News
ALSTOM GT24 Outage Support
ANTONI International, Inc. successfully applies its High Pressure CO2 Dry Ice Blasting on ALSTOM GT24 Rotor and Stator Assembly. The regular scheduled outage at Midlothian Texas allowed us to expand our CO2 Dry Ice service from GE turbines to now include the ALSTOM GT series.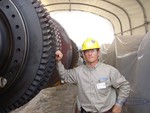 This adds to our CO2 Dry Ice service for HIT Gas, Steam, Hydro-Turbine and Alternator Generator models by GE General Electric, SIEMENS, ABB, MITSUBISHI and KAWASAKI.
Please contact us for your application.