TAURUS 60 SoLoNox 2009 T7901 Mobile Power Unit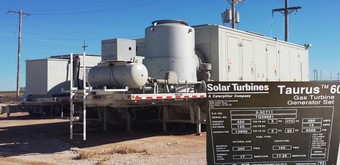 TAURUS 60 SoLoNox 2009 T7901 MPU
Description
Images
Downloads
Description
For sale low hour Mobile TAURUS 60 SoLoNox 2009 T7901 ( MPU ) for lease or purchase conversion 50 or 60 Hz available Natural Gas or Dual Fuel
Description
contact us - see more pictures under image tab
SOLAR TAURUS 60 MOBILE POWER UNIT
LEASE OR PURCHASE
Manufacturer: Solar Turbines Inc.
Rating: 5.67 MW @ ISO Conditions
Model:Solar Turbines Taurus 60 7901S
Serial number TG088(xx)
Configuration: MPU Trailer Mounted Mobile Power Unit.
Combustion System: Dual Fuel SoLoNox Low Emission Configuration.
Hours since new: Less than 2,500 hours
Turbine starts: Less than 300
Year of Manufacture: 2009
Voltage & Frequency: 13.8 to 12.47 kV @ 60 Hz.
Last Overhaul:Not Applicable.
THREE (3) AXLE TURBINE TRAILER WITH:
· Engine: Solar Taurus 60 Gas Turbine Dual Fuel (SoLoNox), 5.67 MW
· Gear: Solar Taurus 60 reduction gear box.
· Generator: Kato Frame 4P10.7-3600, 60 Hz, 12.47kV and 13.8kV @ 1,800 RPM
· Base: Structural Steel Base for Engine, Gear, Generator, & Weather Proof Enclosure
· Enclosure: Weather Proof Acoustic (85dba @ 1 M) Enclosure to House Engine, Gear, & Generator with ventilation air inlet and discharge ducts
· Air Inlet: Donaldson Self Cleaning (Huff & Puff) combustion Air Inlet Filtration.
· Air Inlet Silencer: Donaldson
· Exhaust Silencer with 10 ft. (3M) extension stack
· Lube Oil Sump w/ Duplex Filters.
· AC and DC Pre and Post Lube Pumps.
· Fire Detection and Suppression System
· Combustible Gas Monitor
· Liquid fuel booster pump with duplex filter.
· Air compressor and receiver
· Solar Turbotronic 4 control system
· Combined Generator Control Module (CGCM)..
· Water Wash Cart.
· 2 Axle boosters for connection to 3 axle trailer during transport.
TWO (2) AXLE ELECTRICAL EQUIPMENT ROOM
· 13.8 kV switchgear including Generator Main Circuit Breaker and auxiliary 13.8kV to 480vac step down Transformer Feeder Circuit Breaker, Bus PTs, Feeder CTs, Metering CTs and PTs, Beckwith M-3425 Protective Relay Module, Lightning Arrestor and Surge Capacitor.
· Neutral Grounding Resistor
· 480vac Motor Control Center. Serves Turbine Generator Auxiliary Loads
· 120VDC Turbine Generator Battery System with Charger
· 120VDC Switchgear Battery System with Charger
· Turbine Start Motor Variable Frequency Drive (VFD)
· Solar Turbotronic 4 remote video display terminal.
· Interior Lighting
· CO2 Bottles
· Electrical Equipment Room HVAC system
· Lube Oil Cooler