GE LM5000 47MW Diesel fuel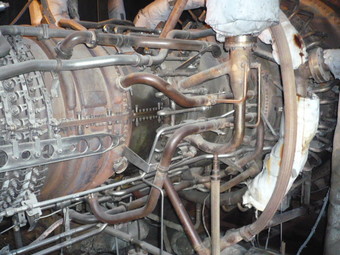 GE LM5000 47MW
Description
Images
Downloads
Description
For Sale used GE LM5000 low hour gas turbine
Description
click on image on the right for additional pictures

Gas Turbine LM5000 for sale stored in warehouse after dismantling

1. Gas Turbine LM5000-STIG Cycle Unit (66.9MW, Power Efficiency 39%)
Supply range: One full set of LM5000-STIG Cycle Unit: Including Gas Turbine, Dynamic Steam Turbine, Generator and all assistant equipments.
Conditions of Main Equipment as follow:
1 Set LM5000 Gas Turbine (STIG cycle 47MW, Power Efficiency 39%)
Manufacturer and Main Parameter of Equipments:
Gas Turbine was manufactured by GE Company:
PN:GE7LM5000-GE-NDBG-GO3
Burning with 0#light diesel oil, the generator was designed and made by British BRUSH Company.
Simple cycle output power: 31427kw
Heat consumption: 10305BTU/kW•H
STIG cycle output power: 47020kw
Heat consumption: 8660BTU/kW•H
Main Operating Time: The Unit was removed from service in 2003, and put into production in Dec in another plant. It was then sent to Germany MTU for overhaul, after that it operated for 6,000 hours (burn diesel oil); In 2003 the control system was change to adopted the latest of SIEMENS PCS7.
It operated very stable since put into production, still in good status at the moment