SATURN 20 T1601 50Hz 11kv Dual Fuel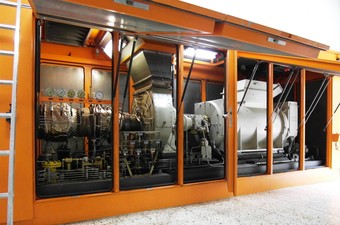 SATURN 20 T1601 50hz 11 kv Dual Fuel
Description
Images
Downloads
Description
SOLAR TURBINES SATURN 20 T1601 50Hz 11kv Dual Fuel 35,000 hours, needs overhaul excellent condition
Description
SOLD ------ ask us about alternative units
SOLAR TURBOMACH package SATURN 20 T1601 50hz 11kv Dual Fuel is in storage ready for inspection.
see images, contact us for more details
Type Solar Saturn 20 ES1601-WK-R (T1500)
el. power 1.1 MW
gas consumption at full load 480 Nm³/h (depends on gas qual.)
Natural gas inlet pressure 11- 12.5 bar
exhaust gas flow (ISO) 6,47 kg/s
exhaust gas temp. (ISO) 485 °C
gas consumption (ISO) 4675 kJ/Sec.
Alternator AVK 1370 KVA; 11000 Volts; 50 Hz; (can run on 10 KV either)
consumption in diesel mode 466 L/h
turbine / gearbox YOM 2008
rest YOM 1996
turbine / gearbox running hours approx 35,000
required gas quality 31,300 - 43,100 kJ / Nm³
start system hydraulic
Solar Saturn 20 dual fuel gas turbine natural gas or diesel. Fuels can
be switched fully loaded without stopping the turbine. The turbine can also be started
with both fuels. This turbine was exchanged because of the new NOx reduction laws.
The turbine was always under a full maintenance contract with Solar. Complete
documentation with all the wiring diagrams for easy installation is available.
Scope of supply: complete skid package with the turbine-gearbox-generator, all the
electric panel boards with the 11 KV switchgear panels, two mufflers.
Not included: waste heat recovery boiler, silenced canopy.