CENTAUR 50 GEARBOX 1500RPM 50HZ UNUSED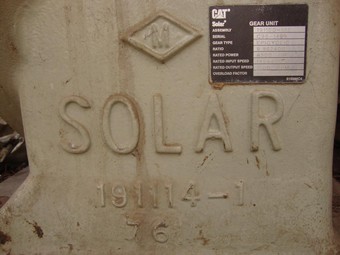 CENTAUR 50 Gearbox 1500 RPM 50hz
Description
Images
Downloads
Description
CENTAUR 50 GEARBOX 191100-102 1500RPM 50HZ unused - stored - crated
Description
"Unused" SOLAR TURBINES CENTAUR 50 Gearbox for sale:
Assembly: 191100-102
Serial Number: C95-1499
Output Speed: 1,500 RPM ( 50Hz application )
contact us for more details
info@antoni-intl.com
ANTONI International, Inc.
1094 Cudahy Place # 114
San Diego, CA 92110
U.S.A.
Tel.: 619-276-8886
Fax: 619-276-8887
ANTONI International, Inc.
is not affiliated with Solar Turbines Inc.Solar®, Saturn®, Centaur®, Taurus®, Titan® and Mars® are registered trademarks of Solar Turbines Inc., San Diego, California, USA.