TAURUS 60S T7301S used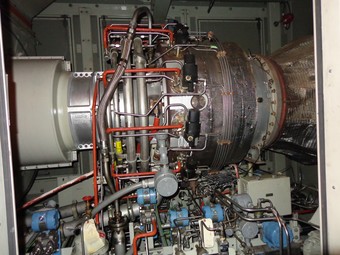 TAURUS 60S T7301S used
Description
Images
Downloads
Description
4.4MW Solar Turbines Taurus 60-7301S Fuel Dual Fuel: Natural Gas, #2 Oil Voltage 3/60/4160 V
Description
For sale
One (1) Gas turbine generator skid consists of following.
Package S/N: TG99618, Model SOLAR TURBINES TAURUS T60S, Type: 7301S, PD: 56591, Duel fuel, Solonox
Engine: 5200 kw gas, 5093 kw oil, Engine I.D.: ET7301S-59-D, Serial no: OHF11-T4340
RPM; 14951 60 hz/14944 50 hz, Combustion chamber: annular type, Torch ignition
Gear reducer: Solar turbines assembly: E196800-206-960, Serial no: DAF06-28963
Generator: Ideal Electric, Brushless ac generator, S/N 991014-0, Frame 21120-31
Type SAB, 4400 KW, 5500 KVA, 4160 v, 3 phase, 6 wire, 60 hz, 1800 rpm, 733 amps
Duty continuous, 0.8 PF, temp. Rise 105 deg C , Amb. Temp 40 deg c
Brushless exciter, Frame BE-13-3, type FRBA, 21 kw, 125 vdc, 168 amps
Fld volts 125 vdc, Fld, F.L. amps 3.7, 80 deg c temp rise.
PMG frame: PM-13-3, 2.4 kva, 2.2 kw, 0.9 PF, 1 phase, 240 v, 10 amps
Solar Turbotronic 3 , 1999 , Solar PLC control panel mounted on skid with touch screen control
Panel, PLC cabinet with Allen Bradley logic cards, Basler solid state voltage regulator SSR-125-12NF
Fire control Panel
Ac starting motor with VFD drive, Natural gas and diesel #2 fuel oil system, lubrication oil system.
Performance: 5200 kw ISO, 11,263 btu/kwh, Exhaust flow: 174,797 lbs/hr 906 deg f. , site rated
4400 kw, 146,300 lbs/hr, 952 deg f, 90 deg f
One (1) Turbine air inlet system McQuary air handling unit, McQuary chiller unit Model 0AC096GBAM
Serial number FB0U090400067 , part number F846399020 FB0, filter house self cleaning air jet
system and mounting frame, silencer and air duct from roof top to turbine inlet air flange.
(chilled water supply & air 14 SCFM, 80-100 psig needed not included)
One (1) Turbine exhaust expansion joint, EF FOX inc flap type diverter po 49146. Pneumatic type.
Divert damper Silencer and 52 feet stack. (air compressor not included)
One (1) Generator inlet Air handling unit , McQuary model number 0AH008GBAC, serial number
FB0U090800827 part number E853548010 0WT, with air duct
One (1) Generator air exhaust duct with silencer
One (1) Enclosure ventilation air duct with silencer
One (1) Lube oil cooler two coolers with interchange valve
One (1) Liquid fuel filter skid
One (1) Battery charger, American Battery Charging Model CBC4-24-50, serial number 0599196, 240/480 v
1 phase, input, 24 v , 50 amps dc output, part number 65031-01, Solar 190102-401(battery not
included)
One (1) Liquid fuel pump motor snubber resister
One (1) Neutral ground resister IPC Power resisters Intl Inc, 2400 v, 500 amps, 4.8 ohms, 10 secs
One (1) Motor control center, 480 v
Three (3) VFD for 480 v motors (Liquid fuel pump motor, Ac starting motor)
One (1) Gas compressor motor starter
One (1) Fuel Gas compressor skid Toromont process systems, Mycom model 160 VMD, serial number
1635352, inlet 1220.8 scfm, 64 psia, 60 deg f, outlet 285.7 psia., motor 250 hp, US frame 449 TS
460 v, 3550 rpm motor, suction scrubber TPSI , oil separator TPSI, gas cooler Chilcon, final gas
Filter Zander model TF19-XCN/350
One (1) Spare gas compressor
One (1) Spare gas cooler
One (1) Co2 cylinder cabinet with 2 x100 lb and 2 x 75 lb cylinders
One (1) Lube oil mist eliminator flame arrester and pipe
One (1) Diesel #2 oil transfer pump with motor
One (1) Set of lube oil, fuel oil, fuel gas piping.
History:
Year installed 1999 as cogeneration plant in pharmaceutical company New Jersey. The plant installed operated and maintained by Solar until shutdown 10/28/2013. Unit dismantled.
Engine hours: 17,236, Engine starts: 144
Hours since installed: 55,976, Starts since installed: 997
Date of Last major service: 5/26/2011
Hours on generator since last service 16,710
PACKING LIST Solar T60S GTG
ITEM NO.

QNTY

DESCRIPTION

APPROXIMATE SIZE L X W X H (EACH)

APPROX. TOTAL WEIGHT IN LBS

1

1

Turbine generator skid package number TG99618

32' x 8'6" x 10'7"

74,000

2

1

Lube oil coolers (2 together)

10' x 6'6" x 3'

2,000

3

1

3 pc

1

Turbine inlet chiller and filter house

Turbine air ducts and silencer

Turbine chiller and filter house stand

17' x 16' x 11'

7,000

3,200

250

4

1

3 pc

Generator inlet air filter house with stand

Generator inlet air ducts

10' x 6' x 7'

3,000

600

5

2 pc

Generator air exhaust ducts and silencer

1,000

6

3 pc

Enclosure vent ducts with silencer

600

7

1

1

Turbine exhaust expansion joint with with Damper

Exhaust silencer

18' x8 ' x 7'

5,000

4,175

8

2 pc

Exhaust stacks

52' x 4' x 4'

7,000

9

4 pc

MCC's

300

10

1

Co2 cylinder cabinet

5' x 2' x 7'

400

11

1

Diesel#2 oil pump skid

5' x 3' x 3'

100

12

1

1

1

Gas compressor skid

Spare gas compressor

Spare cooler

15' x 7'3" x 9'

3' x 3' x 2'

10' x 6" x 6"

14,000

250

200

13

1

Battery charger

4' x 2' x 4'

40

14

1

Liquid fuel pump motor snubber resister

1' x 1' x 1'

30

15

1

Liquid fuel filter skid

4' x 3' x 3'

1,000

16

1

Neutral Ground Resister

4' x 4' x 5'

150

17

1 lot

1 lot

1 lot

1 lot

Lube oil piping

Natural gas piping

Diesel #2 piping

Misc. piping

500

18

3 pc

Lube oil mist eliminator flame arrester & piping to stack

210

19

1

Manuals and drawings

50