2 x GE JENBACHER JMS 316 GS-N.L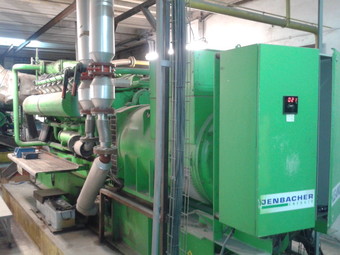 2x GE JENBACHER JMS 316 GS-N.L
Description
Images
Downloads
Description
2 x GE JENBACHER JMS 316 GS-N.L 750 kW (Each) Natural Gas Gensets 1.500 rpm. 50 Hz, 1995
Description
Cogeneration power plant located in Zaragoza (Spain), Power Plant with 2x GE JENBACHER JMS 316 GS-N.L 750 kW. (Each) Natural Gas Gensets 1.500 rpm. 50 Hz

The plant comprises the following equipment and features:

Engine Details
Output Power: 750 KW (Each engine)
M1 62017 hours (no overhaul); Last start: 2010; Available, except control EMS 2000, it must to be repaired.
M2 69606 hours (only 5000 hours from overhaul) The generator is totally renewed. Last start: 2011; Available 100%
Year of manufacturer: 1995
Brand alternator: Stamford
Model alternator: HC 1634k2
Electrical panels, including synchronisation panel.
Absorption Water Chiller (Lithium Bromide)
Year of manufacturer: 1995