10 MW ASEA GAE 1510 Alternator 50 Hz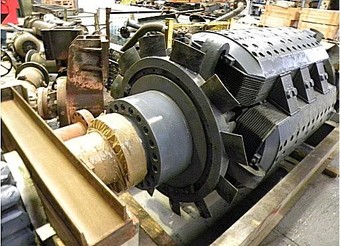 ASEA GAE 1510 Alternator 50 Hz
Description
Images
Downloads
Description
SOLD - 10 MW ASEA GAE 1510 Alternator Generator 50 Hz 11kV, 1500 RPM
Description
SOLD
10 MW ASEA (England) make Alternator available for sale with IMMEDIATE Delivery
ALTERNATOR DETAILS:
Manufacturer : ASEA, England
Type : GAE 1510 (4 Pole)
Year : 1972
Enclosure : C.A.C.W.
Insulation : Class 'F'
Apparent Power : 12500 kVA
Power Factor : 0.8
Active Power : 10000 kW
Rated Voltage : 11000 V
Rated Current : 656 A
Phases : 3
Frequency : 50 Hz
Connection : Star
Speed : 1500 RPM
SCOPE OF SUPPLY
One (1) complete 10 MW ASEA make Alternator as follows:
Alternator Assembly. Alternator cooling system (heat exchangers & associated piping). Exciter Assembly. Common Baseplate (alternator & exciter). Alternator Enclosure. Alternator Cooling System Enclosure. Generator Control Panel. High Voltage Panel. All drawings & documentation, as available.
INSPECTION:
Inspection of the above Alternator can be arranged immediately in warehouse in UK.