CENTAUR T4702 with 304 Tandem Compressors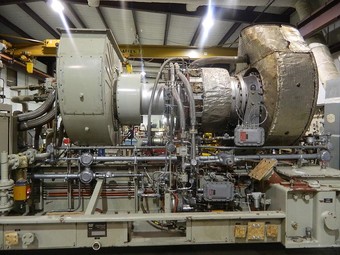 CENTAUR T4702 & 304 COMPRESSORS
Description
Images
Downloads
Description
SOLAR TURBINES CENTAUR T4702 with 304 Tandem Compressors, low hours, overhaul & test available
Description
For Sale Solar Centaur 40, T-4702 Solo-NOx Unit with Tandem C304 Compressors
Package Serial Number CT92(xxx) Commissioned in 1992.
Unit was running when decommissioned.
Feb/16/2005, new unit was installed with package hours at 2400 and Start counter at 2083.
When package was removed from service package hours is at 8126 and Start counter is at2448.
(See Control Cabinet Picture)
Manuals and wiring diagrams and schematics included
Please see Images for additional pictures
Overhaul & Test available
contact:
ANTONI INTERNATIONAL, INC.
1094 Cudahy Place # 114
San Diego, CA 92110
U.S.A.
Tel.: +1 619-276-8886
Fax: +1 619-276-8887
ANTONI International, Inc.
is NOT affiliated with Solar Turbines Inc.Solar®, Saturn®, Centaur®, Taurus®, Titan® and Mars® are registered trademarks of Solar Turbines Inc., San Diego, California, USA.